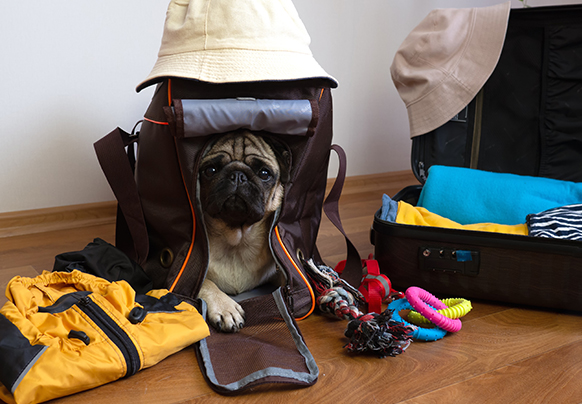 In honor of National Pet Preparedness Month, we're sharing tips to help you prepare – even if you need to evacuate from your home.
Pet Prep is Easy!
Make a Plan: Start by finding local shelters and hotels that have pet-friendly policies. For a list of pet-friendly shelters in Florida, check out Pets Welcome and contact individual shelters to confirm their pet-friendly access. You may also consider boarding facilities or out-of-town friends and family who can house your pets in an emergency.

Add a Rescue Alert sticker – available for free from most local Humane Societies or animal shelters – on or near your front door to let first responders know there are pets inside. Include contact information for your veterinarian. Keep a leash and collar with up-to-date ID tags for each of your pets near the door so you can grab them in a hurry.
Build an Emergency Kit for Your Furry Companion: Include basics like food and water, but also include your pet's favorite toy or blanket to provide them some comfort when their best human is in a stressful situation. Rotate supplies in your pet's kit on the same schedule as your household's kit to keep both fresh.

Think about keeping a comprehensive stash of supplies for sheltering in place and a lightweight 'grab and go' essentials kit in case you must evacuate. Here's a handy checklist infographic to use when building your pet's kit.
Stay Informed: Enable wireless emergency alerts on your mobile device and sign up to receive notifications from AlertFlorida. Always bring pets inside at the first sign of severe weather or a disaster.

Downloading the Florida Storms or FEMA app is another great way to stay informed and receive updates about local weather conditions. You can customize locations within each app to monitor where you live and your preplanned evacuation location to stay safe in every situation.
Plan and Practice While the Weather is Calm: It's important to practice your plan while the weather is calm. Pets can pick up on your stress or tense situations. Regular practice helps you prepare, and it helps your pet acclimate to a change in routine.
Don't Forget Aftercare: Remember to consider pet care after an emergency or a disaster. The American Red Cross includes recovery tips that will help you stay in tune with your pet. Monitoring hazards that impact you or your pet is an essential part of ensuring everyone's safety after an event.
Be ready today! Following these preparation tips and maintaining a regular schedule to check your kit is a great way to have the peace of mind you are prepared for any event and will make your disaster response that much smoother.
(Note: This information guide primarily focuses on cats and dogs. If you are interested in creating a plan for other animals such as birds, reptiles or horses/livestock, visit Ready.gov or the Florida Division of Emergency Management for additional tips.)