Citizens operates three accounts – Coastal, Personal Lines, and Commercial Lines – which are financially independent of one another and have separate claims-paying resources and capacities. In the Personal Lines account, Citizens allocates approximately 83% of every premium dollar to pay claims, with approximately 15% reserved for paying hurricane claims. A particularly devastating storm or series of smaller storms could exhaust these reserves, leaving Citizens without enough money to pay all claims. If this happens, Florida law requires that Citizens charge assessments until any deficits are eliminated.
Assessments are charges that Citizens and non-Citizens policyholders can be required to pay, in addition to their regular policy premiums. Assessments are charged in three tiers, beginning with the Citizens Policyholder Surcharge. Each additional tier is charged only if the level before is insufficient to eliminate Citizens' deficit.
In addition to the Citizens Policyholder Surcharge, additional surcharges and assessments or other adjustments may be applied to a Citizens policy.
---
---
Assessment Tiers*
---
---
1. Citizens Policyholder Surcharge
One-time assessment
Citizens policyholders only
Up to 45% of premium (15% per account)
---
---
2. Regular Assessment**
One-time assessment
Private-market policyholders, including, but not limited to homeowners, auto, and specialty and surplus lines policies
Up to 2% of premium
---
---
3. Emergency Assessment
Single- or multiyear assessment
Citizens and private-market policyholders
Up to 30% of premium per year until any remaining deficit is eliminated (10% per account)
* $3,000 annual premium
** Coastal Account only
---
---
---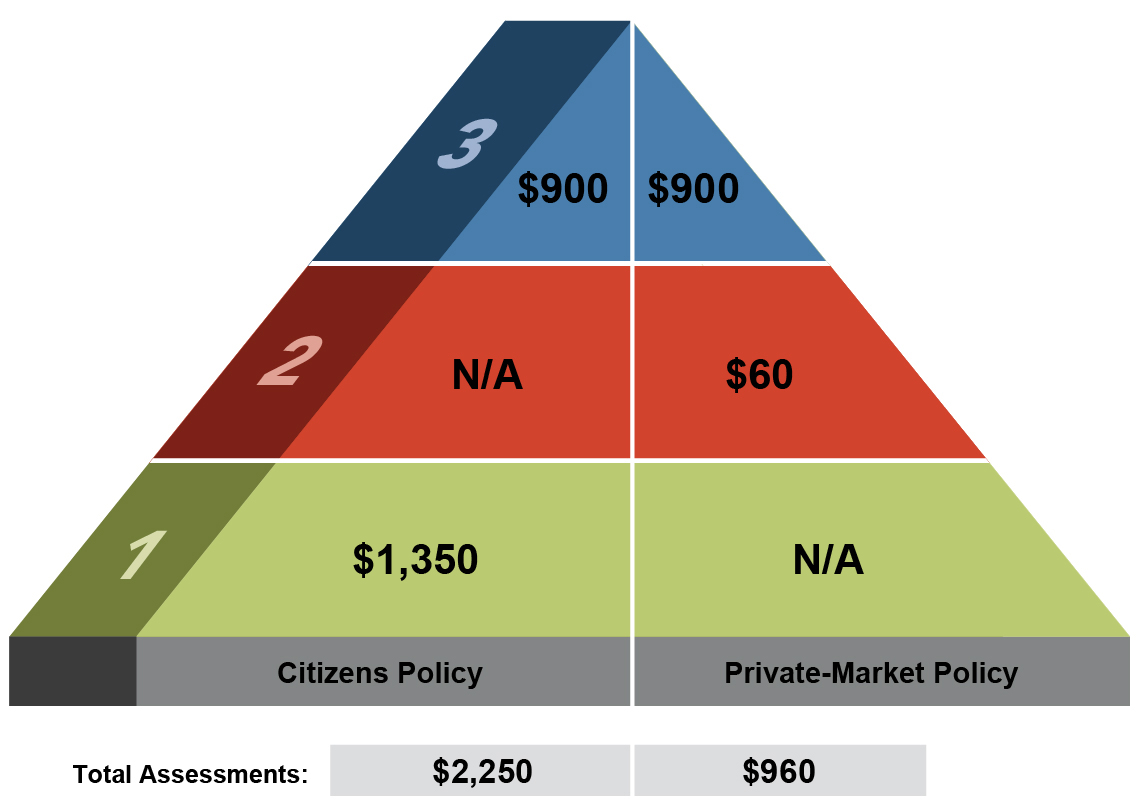 The True Cost of a Citizens Policy
Because Citizens policyholders are the first and most highly assessed group, the true cost of a Citizens policy can increase dramatically following a major disaster:
Header - True Cost Calculator
Cost is an important part of your insurance decisions. See how assessments can affect the true cost of your policy following a catastrophic storm or series of storms.
Citizens policyholders can be assessed up to 45 percent of their total premium if Citizens needs additional funds to pay claims following a major disaster. Non-Citizens policyholders can be assessed at a much lower (2 percent) rate.*
 
Citizens Premium
Non-Citizens Premium
Total Annual Premium
Potential Assessment %
45%
2%
Potential Assessment
--
--
True Cost of Coverage
--
--
*Does not include Citizens Emergency Assessments, which can be levied over multiple years at the same rate for both Citizens and non-Citizens policyholders, or additional mandated charges and assessments, such as the Florida Hurricane Catastrophe Fund (FHCF) and the Florida Insurance Guaranty Association (FIGA).
Nodo: cit-ewas02:8080