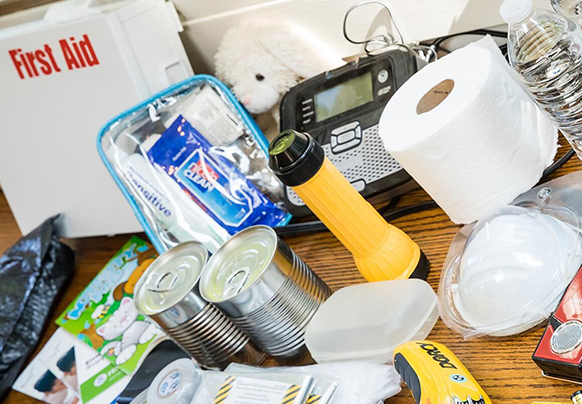 It's June, and hurricane season is here. Now is the best time to make sure plans are in place to protect your family and your home when the wind starts to blow. Citizens has assembled a list of resources to help you get ready and guide you through all phases of the process.
To keep you informed, Citizens has partnered with the Florida Public Radio Emergency Network (FPREN) to bring the latest news about catastrophic weather impacting your area. Following a storm, FPREN updates can be heard on public radio stations and on the Florida Storms mobile website.
The Citizens website also features a Storm Tracker feed, which delivers real-time National Hurricane Center updates directly to your desktop and mobile device. Citizens also offers storm preparation and response information through Facebook and Twitter at @citizens_fla.
Going into the 2022 hurricane season, policyholders should:
Pack a disaster supply kit, learn your evacuation route, and develop a family communication plan that includes emergency contact information. Don't forget to create a plan for your pets! Not all emergency shelters allow pets.
Fill your vehicle with fuel, bring in lawn furniture and clean up your yard to minimize flying debris.
Register for myPolicy, Citizens' online and mobile-friendly policyholder self-service tool, to report a claim, view and download policy documents (excluding claim documents) or make a payment. Verify that Citizens has up-to-date contact and mortgage information.
Review your policy to learn about applicable deductibles. Contact your agent with questions about coverage options and/or to make changes. To obtain general information about coverages and deductibles visit the Learning section of our website.
Ensure that all key property and family information (insurance policies, health records, financial records, pet records, identification details, home inventory, etc.) is stored in a safe, waterproof and easy-to-access location.
If you are directed to weather out the storm at home, find a spot away from windows and doors to hunker down. An interior room or closet is a good space. Keep your disaster supplies and family documents close.
More information on how to prepare your family in the event of a storm can be found on the Citizens website.
If you experience property damage, visit myPolicy to report a claim.
Don't have access to a computer or a mobile device? We are here for you. If you have any additional questions or policy needs, contact Citizens at 866.411.2742 weekdays from 8 a.m.-5:30 p.m. ET for further assistance or to file a claim 24/7.