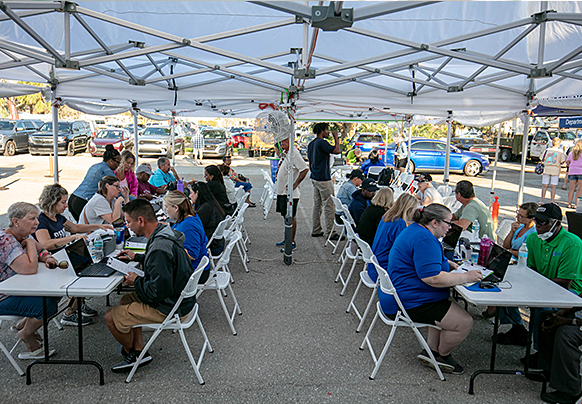 Experiencing a loss can be stressful, whether you're dealing with a hurricane or damage from a burst water pipe, but the claims process doesn't have to be. At Citizens, we don't simply come to your home, make an estimate, write a check and say goodbye – we are with you throughout the entire process.
When filing a claim, we urge our policyholders to contact Citizens first. Citizens offers two convenient options for reporting your claim: online and by phone. Our adjuster will evaluate your claim based on the severity of loss and will respond accordingly with next steps.
The initial estimate will be based upon your policy type, identification of covered damages, coverage limits and deductible amount, and national industry repair standards that are adjusted for labor and materials costs in your specific insured property ZIP code. These costs may vary, particularly after a natural disaster, when labor and material costs may rise due to high demand.
Those initial estimates can – and often do – change as repairs begin or additional information is received.
After a catastrophe like a hurricane, Citizens can make initial payments immediately following the storm to policyholders whose covered losses exceed their hurricane deductibles. As repairs get underway, Citizens distributes additional payments to cover the replacement costs of the covered damage.
For a typical claim that is not related to hurricanes or other catastrophic events, a Citizens adjuster will identify covered damages, complete a preliminary evaluation of costs to repair or replace insured property, and issue a partial payment less the policy deductible.
You can file supplemental claims for any additional covered damages discovered during the repair process or if your contractor's estimate is higher than the adjuster's original estimate.
In the case of sudden water losses not caused by weather, eligible homeowner policyholders can contact Citizens for immediate water clean-up services. This service is free.
In either case, supplemental payments are available for additional covered damage discovered during the repair process or if market conditions render the initial settlement inadequate to make reasonable repairs. Policyholders should contact Citizens before beginning repairs for damages not included in the initial estimate or if the contractor gives a higher figure for the listed repairs.
Note: Citizens offers a Managed Repair Program to provide valuable services to customers with eligible policies whose homes have water damage not caused by weather. These services include free Emergency Water Removal Services and access to a Managed Repair Contractor Network, which connects policyholders with qualified contractors who guarantee their work for five years.