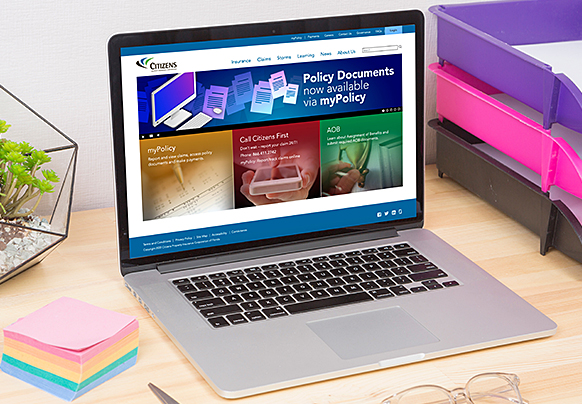 You typically don't think about us until you need us. And that's OK. We get it – we're an insurance company, but not just any insurance company. We're here to provide insurance to property owners like you who cannot find coverage in the private insurance market.
To help provide that service, Citizens' website is full of useful information. Let's focus on three sections of the website that you may want to review and bookmark for future reference.
myPolicy

myPolicy is your very own policyholder account. Think of it as a one-stop shop to manage your policy, claims and billing information.

Simply register for myPolicy when it's convenient for you.

You can use myPolicy to:

View and download your policy documents
Access your policy details and view your coverages, home construction information and more
Report a new claim or view information on an existing claim (Claims documents cannot be downloaded.)
Make a payment, confirm payment or check your next billing due date

Not tech savvy? That's OK. You can call your agent during business hours or the Citizens claims hotline at 866.411.2742 to file a claim 24/7.
---

---

Storm Info

Hurricane season is here, so it's time to be prepared. The Storms page is split into four areas: Prepare, Monitor, Respond and Hurricanes. It also contains links to help you create a home inventory list, conduct disaster planning, and access links to our Twitter and Facebook pages to help you stay informed. Additionally, you can find Catastrophe Response information and links to recovery resources – all on one page.

---

---

Not-to-Be-Missed Policyholder Resources

So many resources, so little time. Here are just a few final considerations:

Check out the Insurance 101 section of the Insurance page for the frequently accessed Understanding Your Insurance.
Peruse the Policy Types section to find out basic coverage types
Visit the Learning page to access easy-to-read, print-ready brochures in English, Spanish and Creole. Want to know more about how assessments impact the cost of your insurance? We have a brochure for that!
Our website is updated on a regular basis, so be sure to check in often to stay on top of the latest news and information.