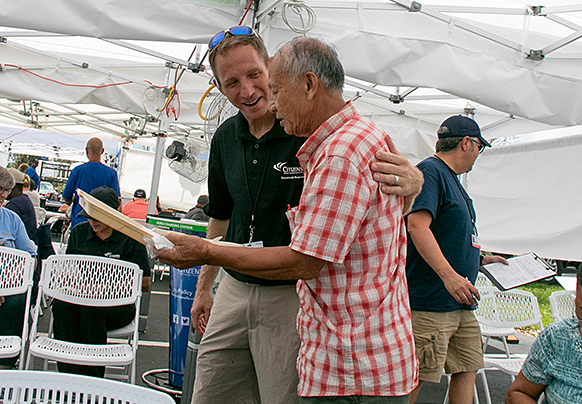 Compared to what she lost, the $3,500 additional living expense check Sandra held in her hand was a small sum, but it was a start.
With it, the 81-year-old Sanibel resident was able to find an apartment to rent near her grandson, with whom she had been staying since Hurricane Ian slammed into the island on September 28.
Because she was unable to travel to one of Citizens' Catastrophe Response Centers (CRCs), a Citizens team member brought the check to her.
"I feel a lot better now that I've got a place to stay," said Sandra, who asked that her last name not be published. She had yet to return to the island to survey the damage.
Her story is unique, but Sandra's circumstances were repeated by tens of thousands of Citizens policyholders picking up the pieces left by Ian, a Category 4 hurricane whose high winds and storm surge tore a path of devastation across the state.
Unlike Nicole, a weaker hurricane that followed six weeks later, Ian's size and track prompted Citizens to activate teams of response volunteers and two mobile CRCs for deployment. Vendor contracts were activated, which placed more than 700 independent adjusters into the field and another 1,100 adjusters working remotely to process claims.
Post-event aerial imagery was provided to Citizens for the hurricane track across Florida, including the hardest hit areas. This imagery allows Citizens to quickly identify claims and homes that have significant damage or total losses over the phone without having a field inspection. We have received over 52,000 claims and continue to utilize the imagery to speed up the claim resolution and customer experience.
Large swaths of coastal Lee and Charlotte counties, including Sanibel Island and Fort Myers Beach, were closed off for several days as first responders conducted search and rescue operations, combing through the rubble looking for survivors. This made access a major challenge.
Many policyholders without electricity, working cell phones or internet connectivity visited the two mobile CRCs set up in Fort Myers and Port Charlotte to file claims and, if their policy allowed, receive additional living expense payments to cover the cost of temporary housing, food and other necessities. Citizens team members in the field assisted 2,403 policyholders while handing out over $4 million in additional living expenses to people in need.
In addition, many customers took advantage of Citizens' online technology by filing claims through myPolicy. Nearly one in five claims were filed via computer or mobile device. Meanwhile, Citizens' call center representatives fielded nearly 100,000 calls in the two weeks following the storm.
As of December 5, 2022, Citizens handled 57,633 claims. The company estimates it will handle nearly 100,000 Hurricane Ian claims in total.
The recovery process continues, as initial estimates often change as repairs get underway. Citizens policyholders should contact Citizens or their agent if changes occur during the recovery process.
Sandra said the road ahead will be challenging, but she's thankful for Citizens' rapid response and is confident that she will return to the place she has called home for more than 35 years.
"Maybe when you come back, we'll have coffee at my house," Sandra said. "It's on the bayou side of Sanibel. It's really lovely."