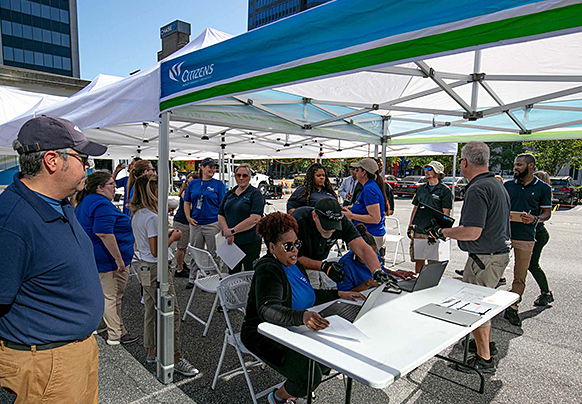 At Citizens, we strive to be the industry leader in customer service. Sometimes that means coming to you, wherever you are. This is especially critical following a disaster.
Citizens' Catastrophe Response Center mobile outposts, known as our CRCs, are fully functioning remote offices equipped with necessary supplies and technology, including mobile generators and satellites for cell phone and internet connectivity.
Once operational, the CRCs provide a front-line point of contact for you to verify coverage, file a claim or secure funds to pay for living expenses if your home is uninhabitable.
"The goal is to meet the needs of customers wherever it takes us," said Ed Sowers, a veteran CRC volunteer who, after Hurricane Michael, drove miles to meet a policyholder to hand-deliver a check. "It's really a special experience for me."
Even before the wind begins to blow, the CRCs are staged to move into an area as soon as it's safe – in some cases, only hours after the storm passes. Working in conjunction with emergency responders and local officials, CRCs are often located close to other critical service providers, including retailers that become hubs of activity as recovery begins.
Once a storm passes, Citizens' team of trained volunteers arrives on-site. Within hours, the CRC is up and running, ready to provide face-to-face assistance. In some cases, Citizens can deploy smaller recovery centers to meet specific needs, as it did following Hurricane Irma in 2017 and Hurricane Michael in 2018.
"In preparation for storm season, our team works diligently to ensure Citizens is ready to provide immediate response when our policyholders need us the most," said Susy Ellis, Citizens' Customer Experience Program Manager, whose team oversees CRC operations. "This season is no exception. Over 130 employee volunteers have been trained and are ready to deploy to disaster areas and provide that personal, face-to-face interaction when needed."
---
---
Citizens Is Ready!
The CRCs are part of Citizens' multiprong approach to disaster recovery. Policyholders can verify coverage through myPolicy, Citizens' online and mobile-friendly policyholder self-service tool. You can use myPolicy to view and download policy documents (excluding claims documents); to submit a claim; and to view your policy, claims and billing information.
Citizens' Customer Care Center is another point of contact following a storm. Call center representatives are available 24/7 to manage inbound and outbound call handling for policyholders filing claims or making claim-related inquiries. Call 866.411.2742.
In the event you are affected by a storm, you don't have to wait for Citizens to come to you. Simply log into myPolicy and file your claim right away.
There when you need us most, Citizens Is Ready!