New myPolicy and Update to Website Login
-------------------
-------------------
March 08, 2018
Citizens has replaced Manage myPolicy (MMP) with myPolicy, our new and improved online policyholder self-service tool that's smartphone-ready. Personal Lines policyholders now can view policy, billing and payment information, and make one-time payments through myPolicy. In addition, policyholders will be able to view claims information. Additional self-service features will be added over time.
To access myPolicy, all policyholders, including current Manage myPolicy users, must register a myPolicy account.
---
---
Login and Systems Access
The Who Are You drop-down menu selections, after clicking Login on the Citizens website, have been discontinued. Now, after users select Login on the Citizens website, they are redirected to a new Login page: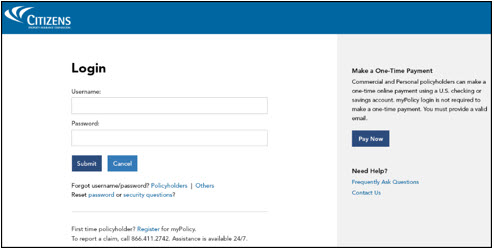 Figure 1: New Login page
---
---
Note: Agents should continue to use their PolicyCenter® user name and password to log in to the website and policy systems.
---
---
Creating a myPolicy Account
Policyholders can create a myPolicy account by selecting the Register link near the bottom of the new Login page or by selecting Register Now on the right side of the myPolicy page on our website.
Policyholders will need to provide the following information:
First name
Last name
Policy number
Email address on file with Citizens
Property ZIP code
Note: To register for myPolicy, the first named insured's Primary Email address in PolicyCenter must be used.
Citizens will send a confirmation email to complete the registration process. Policyholders who need to add or change their email address with Citizens should contact their agent, or call Citizens Customer Care at 866.411.2742.
If the registration is successful, policyholders will receive an email from CPIC_Security_Message@Citizensfla.com with their user name and a link to activate their account.
Note: myPolicy automatically assigns the policyholder their user name. It cannot be changed.
Once policyholders click the activation link, they will be redirected to myPolicy to set up their password and security questions.
---
---
myPolicy Features
Once a policyholder logs in, myPolicy displays the policy used to register the account. Additional policies can be added to the myPolicy account using the Add a Policy button. For each added policy, the email address used to register for myPolicy must match the first named insured's Primary Email address for that policy's record in PolicyCenter.
Personal Lines policyholders can view policy details on the following tabs:
Summary – Policyholder and agent information
Coverages & Deductibles – Policy information
Property Details – Ratings, protections and mitigation features
Billing & Payments – Billing information and activity, invoices, late payments and Make a One-Time Payment
Policyholders can view information about any open or closed claims by selecting Claims in the light blue menu bar. The following information is available:
Claim status
Adjuster contact information
Claims check information details
---
---
Submitting Payment
Personal Lines policyholders have two options to submit one-time premium payments:
A Pay Now button, which is located on the right side of the myPolicy Login page (See Figure 1). MyPolicy login is not necessary to make a one-time payment.
The Make a One-Time Payment button, which displays on the Billing & Payments tab.
---
---
Notes
The payment options direct policyholders to the one-time payment tool, where they will need to enter their policy number and property ZIP code.
Payments can be made only for the amount on an invoice.
Payment for future invoices can be made, but they must be paid in sequential order.
Making payments on multiple policies must be done in separate online transactions; policyholders should not use the browser's "back" (⇦) button.
At this time, policyholders are unable to change their payment plan via myPolicy.
---
---
myPolicy Login Assistance
Once a policyholder has created a myPolicy account, they can select the Forgot username/password option at the bottom of the myPolicy Login page. They will be redirected to the Forgot Username/Password screen to provide their username and registered email address. Once both security questions are answered correctly, a password reset email will be sent to the registered email address.
Policyholders also can reset their password or security questions by selecting the Reset password or security questions links at the bottom of the Login page. In order to reset their password or security questions policyholders must enter their username and password on the myPolicy Login page before selecting the Reset password or security questions links.
---
---
Policyholder Communications
To communicate myPolicy's features and its registration process, Citizens:
Has emailed and mailed current MMP users.
Will send a letter in a few weeks to non-MMP users who have an open claim with a date of loss of September 1, 2017, or later.
---
---
Resources
Log in to the Agents site and from the website's top menu, select Search → Search Frequently Asked Questions (FAQs) and enter myPolicy. Search returns include the myPolicy Overview for Agents job aid.
Policyholders can search frequently asked questions (FAQs) by selecting the Frequently Asked Questions link on the right side of the myPolicy Login page.
For more information regarding the one-time payment tool, refer to the Personal Lines Bulletin: New Online Payment Option for Policyholders.
---
---
---
Citizens provides agent communications online for historical purposes only, and the communications have not been updated to include any changes that may have been made after publication. Agents can find the latest information by reviewing the applicable underwriting manuals, and by logging in and accessing our FAQs, which are available from the top of any page on our website.
Here are the Newest Agent Bulletins
Latest Agent Updates Bulletins
Latest Personal Lines Bulletins
Latest Commercial Lines Bulletins
Email Distribution for Agent Bulletins
Nodo: cit-ewas01:8080