PolicyCenter Upgrade Now Live
June 17, 2019
Citizens upgraded PolicyCenter® this past weekend to provide users with an improved policy-management system. Users will benefit from its enhanced performance and features, which will make work faster and more efficient.
Some of PolicyCenter's new features include:
A clean new look with options to customize what you see and how you see it
Enhanced document management options, including multiple document upload and intuitive changes to document access and viewing
Easy-to-read Payment Schedule screen:

---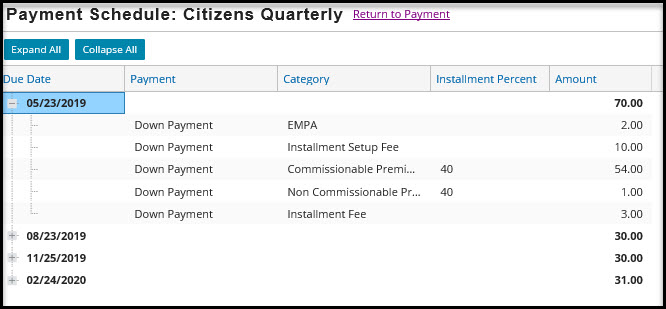 Figure 1: Payment Schedule screen from the Payments section of a new-business application
---
---
---
Learning
Users can learn about these new features via the following resources:
eBrief – Five-minute summary of the new features and benefits
Users also can log in to the Agents site, select Training, then select Commercial or Personal for job aids.
Note: All screenshots in the job aids will be updated soon.
---
---
Troubleshooting
For best performance in PolicyCenter, use Internet Explorer 11.
For a list of known issues, log in to the Agents site and select Search > Search Frequently Asked Questions and search with keywords PolicyCenter issue.
---
---
Support
If you need help:
Call Agent Administration at 888.685.1555.
Call your Citizens Agency Manager.
Reply to this email.
Log in to the Agents site and complete the form on the Contact Us page, choosing Other as the Topic drop-down menu.
---
---
---
Agent Bulletins are provided for historical purposes only and have not been updated to include any changes that may have been made after publication. Agents can find the latest information by reviewing the applicable underwriting manuals and by logging in, then selecting Search → Search Frequently Asked Questions.
Breadcrumb Spacer with Print
Latest Personal Lines Bulletins
Latest Commercial Lines Bulletins
Latest Agent Updates Bulletins
Email Distribution for Agent Bulletins
Nodo: cit-ewas01:8080