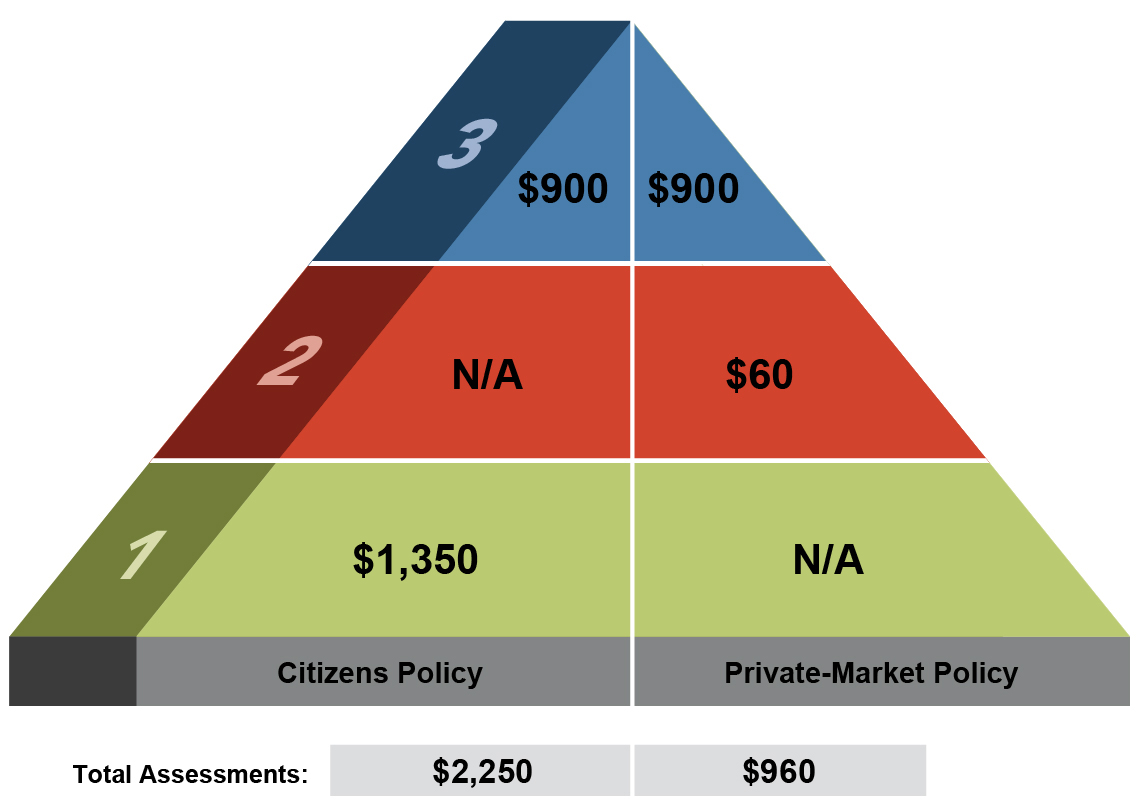 Citizens has three policy accounts – Coastal, Personal Lines and Commercial Lines – which are financially independent of one another and have separate claims-paying resources and capacities. A devastating storm or series of smaller storms could cause a deficit in one or more account, leaving Citizens without enough money to pay all claims. If this happens, Florida law requires Citizens to charge a series of assessments until the deficit is paid.
---
---
Who Pays Assessments
Both Citizens and non-Citizens policyholders must pay assessments in addition to their regular policy premiums when additional funds are needed to pay policyholder claims. Unlike a private insurance company, Citizens is required to levy assessments on its customers if claims-paying funds are exhausted.
For Citizens policyholders, assessments can be substantial. It's important to understand the assessment process and how it affects your policy. A Citizens policyholder's assessment potential can be up to 45% of your premium due to the Citizens Policyholder Surcharge, which is charged first when eliminating a deficit. Private market policyholders are not assessed until the Regular Assessment, which can be up to 2% of premium.
---
---
How Assessments Work
Assessments are charged in three tiers – the Citizens Policyholder Surcharge, Regular Assessment and Emergency Assessment.
---
---
Citizens Policyholder Surcharge
Assessments begin with the Citizens Policyholder Surcharge of up to 15% per account for each account in which there is a deficit. Each additional tier is charged only if the level before is insufficient to eliminate Citizens' deficit. If there is a shortage in each of the three accounts, policyholders could pay up to a 45% surcharge in addition to their annual premium.
Additional surcharges and assessments or other adjustments may be applied to a Citizens policy in addition to the Citizens Policyholder Surcharge.
---
---
Overview
One-time assessment
Citizens policyholders only
Up to 45% of premium (15% per account)
---
---
Regular Assessment
If a deficit remains only in the Coastal Account after the full amount of the Citizens Policyholder Surcharge is levied, the second tier – a Regular Assessment of 2% – will be added to assessable policies in the private market. The policies subject to the Regular Assessment include private-market homeowners policies, auto, specialty and surplus lines policies.
---
---
Overview
One-time assessment
Private-market policyholders, including, but not limited to homeowners, auto, and specialty and surplus lines policies
Up to 2% of premium
---
---
Emergency Assessment
The third and final tier of assessments – the Emergency Assessment – is charged if a deficit remains in any of the accounts after levying the 2% Regular Assessment. Emergency Assessments can be up to 10% per account per year for each of Citizens' three accounts. It is levied on both Citizens and non-Citizens policyholders for as many years as necessary until the deficit is resolved.
---
---
Overview
Single- or multiyear assessment
Citizens and private-market policyholders
Up to 30% of premium per year until any remaining deficit is eliminated (10% per account)
The True Cost of a Citizens Policy
Because Citizens policyholders are the first and most highly assessed group, the true cost of a Citizens policy can increase dramatically following a major disaster:
Header - True Cost Calculator
Cost is an important part of your insurance decisions. See how assessments can affect the true cost of your policy following a catastrophic storm or series of storms.
Citizens policyholders can be assessed up to 45 percent of their total premium if Citizens needs additional funds to pay claims following a major disaster. Non-Citizens policyholders can be assessed at a much lower (2 percent) rate.*
 
Citizens Premium
Non-Citizens Premium
Total Annual Premium
Potential Assessment %
45%
2%
Potential Assessment
--
--
True Cost of Coverage
--
--
*Does not include Citizens Emergency Assessments, which can be levied over multiple years at the same rate for both Citizens and non-Citizens policyholders, or additional mandated charges and assessments, such as the Florida Hurricane Catastrophe Fund (FHCF) and the Florida Insurance Guaranty Association (FIGA).
Nodo: cit-ewas01:8080