Web Content Display (Global)
Employee Experience
Employees are Citizens' greatest asset. That is why we strive to create a corporate culture where employees are engaged – one that maximizes employee potential, encourages innovation, fosters career development and maintains work/life balance.
Offering exceptional benefits that complement our corporate values, including flexible work schedules, continuing education opportunities, career development, tuition reimbursement and more, the culture at Citizens is one we are proud of – and think you will be, too.
Our employees are proud of the company they work for, and proud to be active in the communities where they live and work. A recent employee engagement survey revealed 96% of Citizens employees feel their contributions are important to the success of the organization, 97% are proud of the work they do and 93% talk about their job in a positive light with family and friends.
---
---
Community Involvement
In addition to working to enrich the professional lives of our employees, Citizens also is committed to giving back to their communities.
With so many activities to choose from, our employees thrive both at the office and in our communities!
Web Content Display (Global)
Web Content Display (Global)
Community Volunteer and Mentor Program
Community Volunteer & Mentor Program
Citizens employees have strong ties with the communities they live in and serve. Citizens supports these ties through the Community Volunteer and Mentor Program, which allows employees to donate time each month to programs that help improve the quality of life and education for children or adults in need.
---
---

"The Community Volunteer and Mentor Program is huge for me. Volunteering allows me to fulfill my purpose of service by bringing change to my community at large."
- Jenita Broxton, Contract Analyst
Employee Testimonial - Christine Ashburn
Giving Back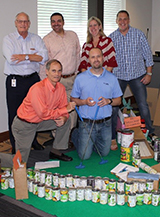 "Supporting volunteerism and community service is one of the many ways Citizens and its employees give back to our communities."
- Christine Ashburn
Chief of Communications, Legislative & External Affairs
Node: cit-ewas02:8080