Web Content Display (Global)
Updating Contact Information During First Notice of Loss Entry
-------------------
-------------------
August 02, 2018
Agents now can update a phone number and/or email address for a policy's first and any additional named insured when entering a first notice of loss (FNOL). The information automatically will update on the account and policy for which the FNOL is submitted. As a result:
Once the update is made during the FNOL process, it will be used as the primary contact information going forward.
Citizens adjusters and staff will use the updated information.
An activity will go to the agent of record to confirm that contact information was updated on the policy.
If necessary, update contact information for the customer's additional policies by submitting a policy change.
---
---
Updating a Named Insured's Phone and/or Email
When a policy's first or additional named insured reports a loss, initiate a new FNOL:
Select the first or additional named insured's name on the Reported By Name drop-down list.
Select Self on the Relationship to Insured drop-down list.
The New FNOL screen displays a message and a link to update their phone and/or email. Select the Contact link: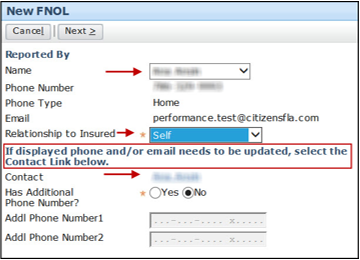 Figure 1: Contact link on the New FNOL screen
---

---

Complete the fields as necessary on the Contact Detail screen and designate a primary phone number (for persons). After submission, the New FNOL screen displays the updated information.
---
---
Resources
For additional processing details, log in to the Agents site:
Access the Training section's Personal and Commercial pages for the updated Submitting a First Notice of Loss job aid.
From the website's top menu, select Search → Search Frequently Asked Questions (FAQs). Enter FNOL into the search field.
---
---
---
Citizens provides agent communications online for historical purposes only, and the communications have not been updated to include any changes that may have been made after publication. Agents can find the latest information by reviewing the applicable underwriting manuals, and by logging in and accessing our FAQs, which are available from the top of any page on our website.
Web Content Display (Global)
Web Content Display (Global)
Here are the Newest Agent Bulletins
Latest Agent Updates Bulletins
Latest Personal Lines Bulletins
Latest Commercial Lines Bulletins
Email Distribution for Agent Bulletins
Node: cit-ewas02:8080