Web Content Display (Global)
Commercial Lines Bulletin
Enhancement to myPolicy: Submit Claims
-------------------
-------------------
June 25, 2018
Citizens' new policyholder self-service tool, myPolicy, has been enhanced with a new feature: policyholders now can file a claim directly online.
---
---
How to File a Claim
Registered policyholders can log into myPolicy and file a claim by choosing Claims in the light blue menu bar, then selecting File a Claim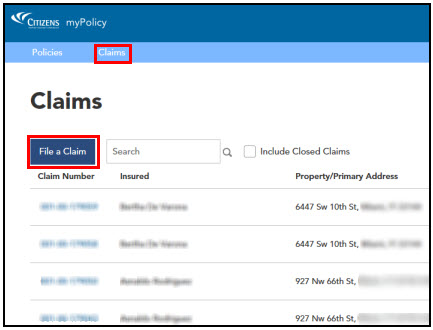 Figure 1: myPolicy Claims screen
---
---
Policyholders should enter the following information:
Date of loss
Cause of loss

The cause of loss cannot be edited after the policyholder proceeds to the next screen. If the cause of loss needs to be edited, the policyholder must cancel the claim by clicking Cancel, and then file a new claim.

Details of the loss
Preferred contact information for the policyholder
Once the claim is submitted, policyholders can select Print on the Confirmation screen to keep a copy for their records.
As a reminder, policyholders also can view information about any open or closed claim by selecting Claims in the light blue menu bar. The following information is available:
Claim status
Adjuster contact information
Claim check information details
---
---
Resources
Commercial Lines Bulletin: New myPolicy and Update to Website Login
Selecting Cause of Loss and Detailed Cause of Loss When Submitting a Claim in myPolicy guide for policyholders
Log in to the Agents site and from the website's top menu, select Search → Search Frequently Asked Questions (FAQs) and enter myPolicy. Search returns include the myPolicy Overview for Agents job aid.
Policyholders can search frequently asked questions (FAQs) by selecting the Frequently Asked Questions link on the right side of the myPolicy Login page and using the keyword myPolicy.
---
---
---
Citizens provides agent communications online for historical purposes only, and the communications have not been updated to include any changes that may have been made after publication. Agents can find the latest information by reviewing the applicable underwriting manuals, and by logging in and accessing our FAQs, which are available from the top of any page on our website.
Web Content Display (Global)
Web Content Display (Global)
Here are the Newest Agent Bulletins
Latest Agent Updates Bulletins
Latest Personal Lines Bulletins
Latest Commercial Lines Bulletins
Email Distribution for Agent Bulletins
Node: cit-ewas01:8080