A Message From Our President
---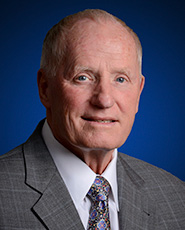 If you're looking for a career that's more than just a paycheck, then you're looking for Citizens Property Insurance Corporation.
Citizens needs dedicated people who want to help Floridians protect their most important assets – their homes and businesses. If you want a job that offers the personal satisfaction of public service and the ability to help people in a real and concrete way, look no further.
Citizens is Florida's property insurance provider of last resort, protecting property owners who cannot find coverage in the private market. Without us, many people would be unable to obtain any property insurance, which would have dire consequences for Florida's economy. As a result, our employees have a unique responsibility to all Floridians – and a unique opportunity to make a difference.
At Citizens, you will have the opportunity to build a meaningful career in a fast-paced, dynamic and ever-evolving organization.
---
---
---
Make Citizens Part of Your Future
Citizens is looking for people who share our corporate values of Public Service, Integrity, Respect, Responsiveness and Sound Judgment.
Join the 1,200 employees – located in offices in Tallahassee, Jacksonville and Tampa and in field locations throughout Florida – who are passionate about the work they do. We are looking for people who take pride in their work, strive for excellence and, most important, measure success not in profits, but in fulfilling a critical public purpose.
I've chosen Citizens for my career. I find it a fascinating challenge – more challenging than any position I've held in the past. What a way to contribute!
We invite you to make your contribution and become part of our team.
Regards,


Barry Gilway
President/CEO and Executive Director
Joining the Citizens team will provide many opportunities for personal and professional growth. Citizens offers competitive salaries, as well as great benefits that include a retirement savings plan with a generous company match and medical, dental, vision, group life and short-term disability insurance.
---
Be part of Citizens' future!
---