An assignment of benefits (AOB) is a contract between you and a third party – typically a contractor, roofer or water mitigation company – giving them the right to deal directly with Citizens and receive payment for your claim.
When you sign an AOB contract, you give up the right to manage your claim and ensure it is resolved timely and to your complete satisfaction. Although most AOB is not fraud, AOB fraud and abuse are on the rise.
Identify AOB Abuse
Someone knocks on your door and tells you there is damage you didn't know about.
You're promised something for nothing, such as a free roof or kitchen renovation.
Someone claims the damage is greater than it clearly is.
Permanent repairs begin before your insurance company is notified or allowed to inspect damages.
AOB Costs You Money
AOB claims cost more without delivering increased benefits to you, the customer. AOB contracts are increasing in South Florida and their use is spreading throughout the state. The increasingly widespread abuse of AOB is driving rates up across Florida and will continue to do so for the foreseeable future unless statutory changes are made.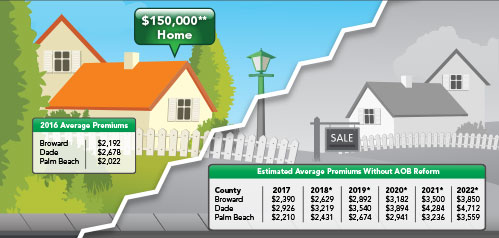 Help Stop AOB Abuse
Calling Citizens as soon as you become aware of or suspect any damage puts you in control of your claim and ensures repairs are completed to your satisfaction and Citizens' high quality standards:
Call Citizens First as soon as you become aware of a possible loss.
Never sign anything related to a possible loss without first calling Citizens or your agent.
Filing a claim with Citizens is easy. Contact your agent, or call Citizens at our toll-free, 24/7 claims reporting hotline. The rest is easy.
Claims Hotline – 866.411.2742
For more information about AOB, check out Assignment of Benefits: What You Need to Know.
Florida can protect homeowners by enacting sensible AOB reforms that will lessen rate increases for homeowners and help shield them from unscrupulous contractors and lawyers seeking to enrich themselves at their expense.
Visit the Consumer Protection Coalition for more information about how Florida can help stem the tide of rising rates for its homeowners.