Residence Held in Trust: New Rules, Forms and System Changes
-------------------
-------------------
October 16, 2017
The Florida Office of Insurance Regulation (OIR) has approved new rules and endorsements filed by Citizens for residences held in trust. These materials will apply to personal residential new-business submissions with effective dates on or after December 1, 2017.
Citizens will provide information soon regarding changes for existing policies with residences held in trust.
---
---
Details
---
Notes
The rules and endorsements apply to all personal residential policy forms except tenant content policy types.
There is no rate impact.
---
---
Residence Held in Trust
Under the new rules:
A homeowner, dwelling or a condominium unit policy can be issued when legal title to the residence is held in trust.
Eligible policy types can be endorsed to insure a trustee and, if applicable, a trust.
The trust, by itself, cannot be the named insured. The name(s) of the trustee(s) must precede the name of the trust as the named insured.
Trustees that are corporations, partnerships or limited liability companies (LLCs) may be eligible for dwelling policies without liability coverage.
Note: Refer to Rule 202 Eligibility - Underwriting Guidelines in the Personal Residential Multiperil (PR-M) and Personal Residential Wind-Only (PR-W) manuals for further details.
---
---
Trust Endorsements
New endorsements provide coverage for trusts and trustees. The endorsement form numbers vary by line of business:
Note: These endorsements are located in the specific policy type's Endorsement section on the Agents site.
The new endorsements:
Amend the definition of insured to include a trustee and, if applicable, the trust
Specify coverages that only are applicable to the trustee and trust
Limit the trustee's coverage to when they are acting only in the capacity of managing the trust with respect to the insured property
Amend other policy provisions to clarify the insuring conditions of property held under a trust
---
---
PolicyCenter Changes
PolicyCenter® now displays two new drop-down options for the Entity Type field when either of the following occur:
A new company is created at the account level.
The additional named insured or the first named insured is added or changed at the policy level.
The new drop-down options in the Entity Type field are as follows:
A new mandatory field called Person Type has been added to PolicyCenter. When adding a new person or creating a new account on a policy, an agent must identify the person type as either:
Individual
Trustee
Grantor
Individual with Trust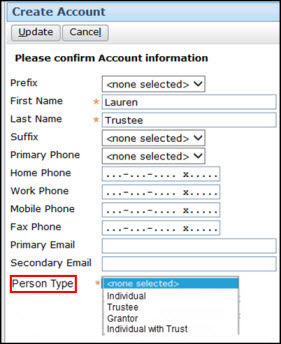 Figure 1: New mandatory field: Person Type
---
---
When adding an additional interest, a new drop-down option called Trustee/Trust now is available in the Type field.
---
---
New Required Document
A Certification of Trust (CIT TRUST CERT 12 17) must be completed by the trustee(s) and uploaded when:
A trust or trustee is listed as an additional interest on a new-business submission.
A trust or trustee is listed as an additional interest on a policy change.
Note: This document is on the Agents site by selecting > Personal > PR-M or PR-W (under General).
---
---
Property Insurance Clearinghouse Updates
The Legal Entity field in the clearinghouse has been updated to include the following new options when creating a new account:
Trustee (as Company)
Grantor (as Company)
Trustee (as Person)
Grantor (as Person)
Individual with Trust (as Person)
---
---
Website Updates
Updated underwriting manuals, new required documents and forms are located in the Personal section for each line of business on the Agents site.
---
---
---
Citizens provides agent communications online for historical purposes only, and the communications have not been updated to include any changes that may have been made after publication. Agents can find the latest information by reviewing the applicable underwriting manuals, and by logging in and accessing our FAQs, which are available from the top of any page on our website.
Here are the Newest Agent Bulletins
Latest Agent Updates Bulletins
Latest Personal Lines Bulletins
Latest Commercial Lines Bulletins
Email Distribution for Agent Bulletins
Nodo: cit-ewas01:8080