Rule Change and System Enhancements for Mobile Home Valuations
-------------------
-------------------
June 29, 2017
Citizens is implementing a rule change and system enhancements that will give agents greater flexibility in establishing Coverage A values for mobile home risks. In the coming weeks, Citizens also will mail postcards to affected policyholders about the rule change.
---
---
Rule Change: Increased Coverage A Limits
The Florida Office of Insurance Regulation approved Citizens' request to offer increased Coverage A maximum limits up to 150 percent of the estimated value for mobile home policies.
The following features in the 360Value® cost estimator also may increase Coverage A values:
Beginning July 1, 2017, agents can use a new feature called Calculate ACV, which provides an option to improve the valuation for all attached structures:
Select Calculate ACV on the Results page.
Select Effective Age, and enter the estimated age of the structure(s). Agents may have to enter the average age if multiple attached structures have varying ages.
Choose the applicable option from the Condition drop-down list: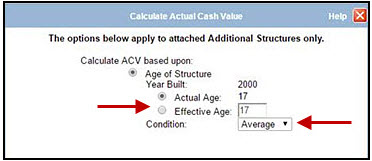 Figure 1: Effective Age field and Condition drop-down list on the Calculate Actual Cash Value screen
---
---
Note: Agents must upload photos supporting changes to the age and condition for attached structure(s).
Beginning July 1, 2017, 360Value will depreciate only the cost of materials for attached structures instead of the total cost of the structures. Agents can apply this change to existing policies or quotes by recalculating the estimated value.
Complete the User Defined Feature fields in the Additional Structures section for recent renovations and upgrades and recently added attached structures. Log into the Agents site, and refer to the Cost Estimator Reference Guide for details.
Reminder: Agents can use the Mobile Home Manufacturer and Model (Trade Name) fields instead of the Supplemental Value Section. For more information, see the April 21, 2017, Personal Lines Bulletin.
---
---
Selecting Coverage A Limits in PolicyCenter®
Beginning July 9, 2017, agents can select Coverage A limits in a dollar amount up to 150 percent of the Stated Value or Alternate Value Amount on the Coverages screen of a submission or policy change.
Until July 9, use a temporary process to request 126-150 percent for new-business and policy changes. The temporary process is provided in Frequently Asked Questions Answer ID 3539 on the Agents section of the website.
---
---
Citizens Outreach
Citizens will mail postcards to mobile home policyholders, in a staggered fashion, from the first week of July to August 18. The postcards advise policyholders to review coverage options and discuss renovations, upgrades and attached structures with their agent.
To help agencies prepare for these changes, Citizens will send agency principals a list of their mobile home policies later this week so their agency staff can work with policyholders to re-evaluate the value of each mobile home.
---
---
Resources
Log in to the Agents site to access the:
Training → Personal Lines page for:

PolicyCenter job aids and modules

Personal pages for:

PR-M Mobile Homeowners and Mobile Home Dwelling manuals
PR-W Mobile Homeowners Wind and Mobile Home Dwelling Wind manuals
Agents who are logged in also can select Search Frequently Asked Questions from the website's top menu, and enter mobile home limits or mobile home valuation in the search field to access mobile home coverage options.
---
---
---
Citizens provides agent communications online for historical purposes only, and the communications have not been updated to include any changes that may have been made after publication. Agents can find the latest information by reviewing the applicable underwriting manuals, and by logging in and accessing our FAQs, which are available from the top of any page on our website.
Here are the Newest Agent Bulletins
Latest Agent Updates Bulletins
Latest Personal Lines Bulletins
Latest Commercial Lines Bulletins
Email Distribution for Agent Bulletins
Nodo: cit-ewas01:8080