Temporary Step for Submitting a First Notice of Loss in PolicyCenter
-------------------
-------------------
June 16, 2017
In preparation for a potential catastrophe event, Citizens is conducting a system exercise beginning June 19 and lasting through June 23, 2017. It will not affect Citizens' processing of claims.
During this time, agents submitting a first notice of loss (FNOL) in PolicyCenter® may see MCM Task Assignment as a drop-down option in the Catastrophe field on the New FNOL screen.
If an agent sees MCM Task Assignment as an option in the Catastrophe field, select it in addition to entering the remaining loss details: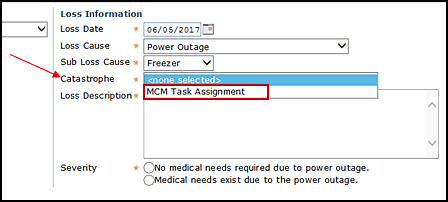 ---
---
Note: Selecting MCM Task Assignment has no impact on the processing of the claim, but it will assist Citizens in preparing for a catastrophe event.
---
---
---
Citizens provides agent communications online for historical purposes only, and the communications have not been updated to include any changes that may have been made after publication. Agents can find the latest information by reviewing the applicable underwriting manuals, and by logging in and accessing our FAQs, which are available from the top of any page on our website.
Here are the Newest Agent Bulletins
Latest Agent Updates Bulletins
Latest Personal Lines Bulletins
Latest Commercial Lines Bulletins
Email Distribution for Agent Bulletins
Nodo: cit-ewas01:8080