New Activity Process: Review and Provide Additional Information
-------------------
-------------------
February 27, 2017
Citizens has improved the PolicyCenter® process for notifying agents when additional underwriting information is required to determine if a property meets eligibility requirements for a new-business submission or existing policy. This new process will shorten underwriting processing times dramatically.
---
---
Review and Provide Additional Information Activity
The agent of record will receive a Review and Provide Additional Information activity on their Desktop when an Underwriter needs additional information and/or supporting documents. To view and complete the activity:
Open the activity and select View Reasons for details of the Underwriter's request.
Select Link Document to attach supporting documents and/or photos to the activity. If necessary, add a note to the Text box.
Select Return to Underwriter by the due date. The activity will be removed from your Desktop.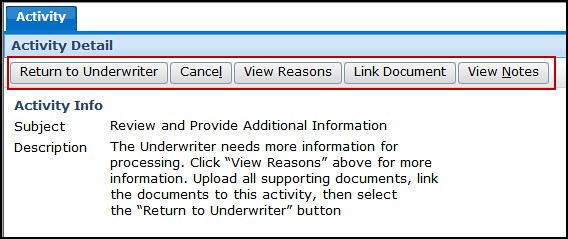 Figure 1: Review and Provide Additional Information Activity Detail screen
Select View Notes to display notes associated with the activity. PolicyCenter automatically creates a policy note when:
An Underwriter sends a Review and Provide Additional Information activity to the agent.
The agent returns the activity to the Underwriter.
---
---
PolicyCenter Resources
For additional details:
Log in to the Agents site and access the Training pages for the following PolicyCenter job aids:

Agent Activities Overview
Completing the Review and Provide Additional Information Activity

Agents who already are logged in also can select Search Frequently Asked Questions from the website's top menu and enter activities in the search field to access activity information.

Agents also can access the FAQs via the Knowledge Base link at the top right corner of every screen in PolicyCenter.

Agents and their staff can attend one of two free webinars on March 2 or 3, which will provide additional information about PolicyCenter enhancements and other important Citizens news:
---
---
Citizens Webinars
Date
Times and Register Links
Thursday, March 2
2-3 p.m. ET
2-3 p.m.
Friday, March 3
2-3 p.m. ET
10-11 a.m.
---
---
---
Citizens provides agent communications online for historical purposes only, and the communications have not been updated to include any changes that may have been made after publication. Agents can find the latest information by reviewing the applicable underwriting manuals, and by logging in and accessing our FAQs, which are available from the top of any page on our website.
Here are the Newest Agent Bulletins
Latest Agent Updates Bulletins
Latest Personal Lines Bulletins
Latest Commercial Lines Bulletins
Email Distribution for Agent Bulletins
Nodo: cit-ewas02:8080