System Updates for Coverage B Increased Limits Options
-------------------
-------------------
April 25, 2016
Effective immediately, the increased Coverage B – Other Structures options announced in the April 14, 2016, Personal Lines Bulletin are available in PolicyCenter® for new business and renewals, and midterm policy changes for existing policies with effective dates on or after February 1, 2016.
---
---
Notes
The changes outlined below apply to all personal lines policy types except tenant contents and condominium policies.
Increased limits options for Coverage B – Other Structures is not available for structures that are rented out or used to conduct business.
PolicyCenter alerts agents that they must upload additional photos when they request Coverage B exceeding 10 percent.
---
---
Clearinghouse and Coverage B
When entering a risk in the Property Insurance Clearinghouse, the maximum limit for Coverage B indicates 10 percent. If the risk is eligible for Citizens, the Coverage B limit can be increased in PolicyCenter.
Agents can perform a quick quote in PolicyCenter to obtain the premium amount for the increased Coverage B options.
---
---
PolicyCenter Changes for Homeowner and Dwelling Policies
The default amount for Coverage B is 2 percent of the Coverage A amount (or the percentage the agent selected in the clearinghouse). Agents can increase Coverage B in 5-percent increments up to 60 percent.
---
---
PolicyCenter Changes for Mobile Home Policies
For mobile home policies, the minimum Coverage B limit is 10 percent. Agents can increase it in 5-percent increments, up to 60 percent of the Coverage A amount, as shown below: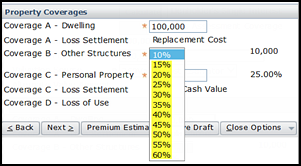 Figure 1: Coverage B – Other Structures drop-down options for mobile home policies
For Mobile Homeowners 3 – Special Form (MHO-3) policies, a $2,000 minimum Coverage B amount applies. Agents can increase it only when the Coverage B dollar amount is more than $2,000.
---
---
Binding and Issuing the Policy
Agents can bind coverage for eligible risks when requesting Coverage B limits greater than 10 percent, but Underwriting must approve the submission before the policy can be issued.
Agents must indicate the occupancy and usage of the additional structure in the Agent Application Remarks section in PolicyCenter. For more information about how to enter remarks, review the Entering Application Remarks in a Submission job aid, which is in the Training section of the Agents site.
---
---
Additional Resources
For PolicyCenter processing details, log in to the Agents site, and refer to the job aids and modules on the PolicyCenter training pages.
---
---
---
Citizens provides agent communications online for historical purposes only, and the communications have not been updated to include any changes that may have been made after publication. Agents can find the latest information by reviewing the applicable underwriting manuals, and by logging in and accessing our FAQs, which are available from the top of any page on our website.
Here are the Newest Agent Bulletins
Latest Agent Updates Bulletins
Latest Personal Lines Bulletins
Latest Commercial Lines Bulletins
Email Distribution for Agent Bulletins
Nodo: cit-ewas01:8080