Policy Contacts and Mailing Address Updates
Februar 29, 2016
Citizens continues to improve PolicyCenter® for managing contacts and updating policy mailing addresses. The changes outlined below are effective immediately. For more details, log in to the Agents site and refer to the job aids and modules on the PolicyCenter training pages.
Account Holder Information
When creating a new submission, PolicyCenter prefills the First Named Insured and Policy Mailing Address fields using the Account Holder information:

Agents can edit these fields in the submission transaction.
Edited contact information will apply only to the submission and does not impact the Account Holder information.

Once the first submission for an account is bound, PolicyCenter creates a new Role for the Account Holder in Account File Contacts: Named Insured. See Figure 1 below.
As additional submissions associated with an account are bound, PolicyCenter creates an account contact that is unique for each submission. This results in multiple listings of the same contact person or company on the Account File Contacts screen.

To verify which policy the contact is associated with, select the contact and click the Associated Policies tab: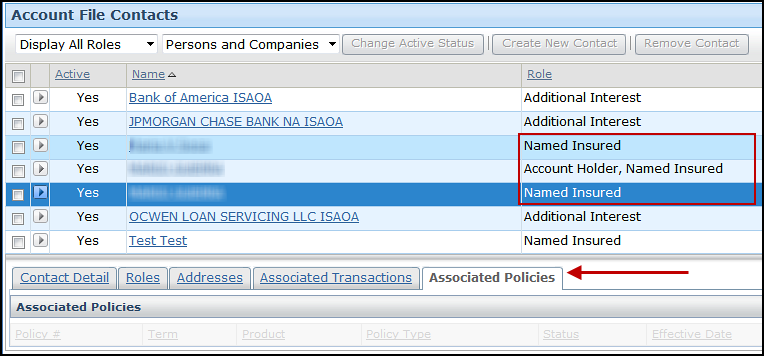 Figure 1: Associated Policies tab on the Account File Contacts screen
Note: When a submission is withdrawn, any corresponding edits to the First Named Insured contact information are deleted.
Policy Mailing Address Updates
When an agent edits the Policy Mailing Address on the Policy Info screen, the Change To: drop-down options have been updated to display:
Existing Address, when applicable
Update Address
This system update allows PolicyCenter to set the first named insured's primary mailing address with data to match the edited Policy Mailing Address data.


Figure 2: New Change To: drop-down options in the Policy Mailing Address section
Note: If the first named insured is associated with more than one policy, the mailing address change must be submitted for each policy via a policy change transaction.
Entering a Care of Mailing Address
When adding or updating a mailing address that includes care of (i.e., c/o):
Enter the c/o information in the Address Line 1 field.
Enter the street or P.O. Box address in the Address Line 2 field.
Select Override from the Address drop-down options.
The address will print as follows:
Name
c/o information
Street or P.O. Box address
City, State ZIP
Latest Personal Lines Bulletins
Latest Commercial Lines Bulletins
Latest Agent Updates Bulletins