Web Content Display (Global)
Website and System Login Update
-------------------
-------------------
March 27, 2017
Citizens is enhancing the website and system password reset and recovery process to provide better self-service to users. As part of this process, agents will be required to answer new security questions when they first log in to the website, PolicyCenter® or the Property Insurance Clearinghouse on or after April 1, 2017
Once agents enter their username and password, they will be directed to the Edit Profile/Security Questions page to answer new security questions:
---
---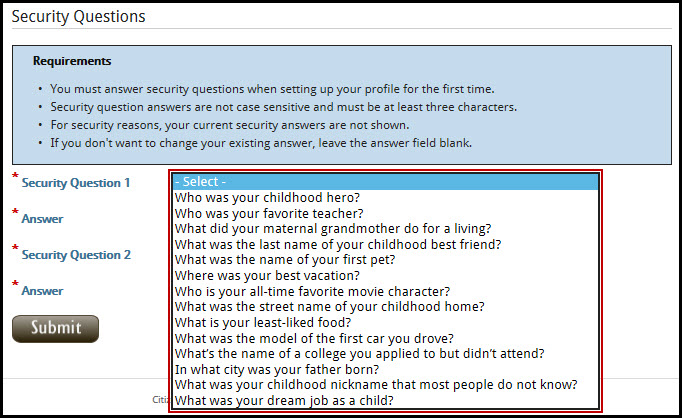 Figure 1: Edit Profile/Security Questions page
---
---
Notes
Answers must be at least three characters and are not case sensitive.
Current security answers will be deleted.
---
---
Additional Changes
Additional changes to the login system include:
The User ID field is being renamed Username.
Having trouble logging in? is being renamed Forgot Username/Password.
Agents can select Forgot Username/Password if they forget their username or password or get locked out of the system.
---
---
Additional Resources
For step-by-step instructions about resetting a password, log in to the Agents website, and using the Frequently Asked Questions feature under Search menu, search for 3073 .
Agents also can access the FAQs via the Knowledge Base link at the top right of any screen in PolicyCenter.
---
---
---
Citizens provides agent communications online for historical purposes only, and the communications have not been updated to include any changes that may have been made after publication. Agents can find the latest information by reviewing the applicable underwriting manuals, and by logging in and accessing our FAQs, which are available from the top of any page on our website.
Web Content Display (Global)
Web Content Display (Global)
Here are the Newest Agent Bulletins
Latest Agent Updates Bulletins
Latest Personal Lines Bulletins
Latest Commercial Lines Bulletins
Email Distribution for Agent Bulletins
Node: cit-ewas02:8080