Web Content Display (Global)
Policy Mailing Address Enhancements
September 27, 2016
The PolicyCenter® changes below are effective immediately and assist agents with servicing and managing their policies.
---
---
Address Change Notification
The process outlined below replaces how Citizens communicates with agents about policyholder address change notifications from the United States Postal Service (USPS):
When Citizens receives a USPS notification of address change for a policyholder, an activity will be sent to the agent of record. The subject of the activity is USPS Notification of Address Change, and it instructs the agent to submit a policy change, as necessary, to update any contact information and provide information to verify the property's ownership and occupancy: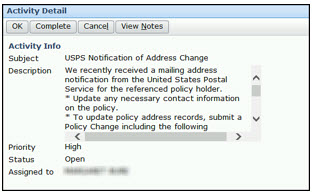 Figure 1: USPS Notification of Address Change Activity Detail screen
---

Agents may need to upload documentation to change the occupancy, or the policy may need to be cancelled if the occupancy or ownership has changed.
The following note will be added to the policy:
Subject: USPS Notification of Address Change
Body: Citizens received notification from the US Post Office advising of a forwarding address. Agent received an activity requesting them to update any necessary contact information on the policy.
---
---
Editing Mailing Addresses
Agents no longer can edit the primary named insured's mailing address; they must submit a policy change to edit the policy's mailing address. Once approved, this also will update the primary named insured's address.
For step-by-step instructions for changing a mailing address, log into the Agents site, select Search Frequently Asked Questions in the Search box on the top of any page, and search for 1529.
Note: PolicyCenter will change the named insured's primary address automatically at the account level once the policy change transaction is bound. This can be viewed on or after the transaction's effective date.
---
---
Policy Info Screen Update
The Policy Info screen now indicates whether the Policy Mailing Address is Standardized, Overridden or Non-standard.
---
---
---
Agent Bulletins are provided for historical purposes only and have not been updated to include any changes that may have been made after publication. Agents can find the latest information by reviewing the applicable underwriting manuals and by logging in, then selecting Search → Search Frequently Asked Questions.
Web Content Display (Global)
Web Content Display (Global)
Latest Agent Updates Bulletins
Latest Personal Lines Bulletins
Latest Commercial Lines Bulletins
Email Distribution for Agent Bulletins
Node: cit-ewas02:8080